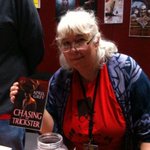 At NY Comic Con
I had such a great time getting to know my fellow HWA members a bit better at the NY Comic Con HWA booth.
Here I am at NY Comic Con last weekend with Jonathan Maberry and Doug Wynne.
Thank you, thank you Greg and James for setting all of this up.